Page 24 - MS811 2023 issue 1
P. 24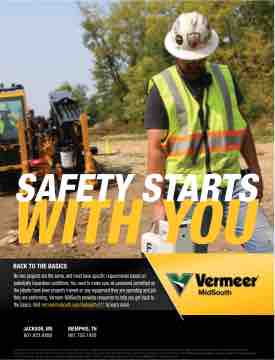 BACK TO THE BASICS
No two projects are the same, and most have speciic requirements based on potentially hazardous conditions. You need to make sure all personnel permitted on the jobsite have been properly trained on any equipment they are operating and job they are performing. Vermeer MidSouth provides resources to help you get back to the basics. Visit vermeermidsouth.com/midsouth-811 to learn more.
  JACKSON, MS
601.923.8888
22 • Mississippi 811 2023, Issue 1
MEMPHIS, TN
901.758.1928
   Equipment shown is for illustrative purposes only and may display optional or global-region speciic features, accessories or components. Please contact your local Vermeer dealer for more information on machine speciications. Vermeer Corporation reserves the right to make changes in product engineering, design and speciications; add improvements; or discontinue manufacturing or distribution at any time without notice or obligation. Vermeer, Navigator horizontal directional drill and the Vermeer logo are trademarks of Vermeer Manufacturing Company in the U.S. and/or other countires. © 2022 Vermeer MidSouth, Inc. All Rights Reserved.