Page 24 - MS811 2022 issue 4
P. 24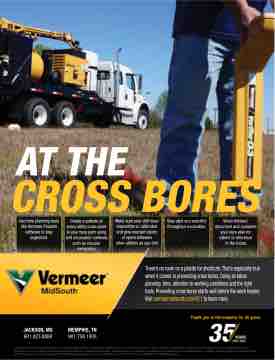 Use bore planning tools like Vermeer Projects software to stay organized.
Create a pothole at every utility cross point in your bore path using
soft excavation methods, such as vacuum excavation.
Make sure your drill head transmitter is calibrated and give yourself plenty of space between
other utilities as you drill.
Stay alert and watchful throughout excavation.
When inished, document and complete your bore plan for others to reference
in the future.
   JACKSON, MS
601.923.8888
MEMPHIS, TN
901.758.1928
22 • Mississippi 811 2022, Issue 4
Equipment shown is for illustrative purposes only and may display optional or global-region speciic features, accessories or components. Please contact your local Vermeer dealer for more information on machine speciications. Vermeer Corporation reserves the right to make changes in product engineering, design and speciications; add improvements; or discontinue manufacturing or distribution at any time without notice or obligation. Vermeer, Navigator horizontal directional drill and the Vermeer logo are trademarks of Vermeer Manufacturing Company in the U.S. and/or other countires. © 2022 Vermeer MidSouth, Inc. All Rights Reserved.
There's no room on a jobsite for shortcuts. That's especially true when it comes to preventing cross bores. Doing so takes planning, time, attention to working conditions and the right tools. Preventing cross bores starts well before the work begins. Visit vermeermidsouth.com/811 to learn more.
Thank you to the industry for 35 years.