Page 24 - Mississippi 811 Magazine 2022 Issue 3
P. 24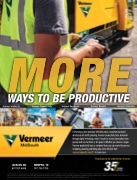 Vermeer Veriier G3
Vermeer Projects Suite
Vermeer BoreAssist
Vermeer BoreAid
Vermeer Telematics
JACKSON, MS
601.923.8888
MEMPHIS, TN
901.758.1928
22 • Mississippi 811 2022, Issue 3
Equipment shown is for illustrative purposes only and may display optional or global-region speciic features, accessories or components. Please contact your local Vermeer dealer for more information on machine speciications. Vermeer Corporation reserves the right to make changes in product engineering, design and speciications; add improvements; or discontinue manufacturing or distribution at any time without notice or obligation. Vermeer, Navigator horizontal directional drill and the Vermeer logo are trademarks of Vermeer Manufacturing Company in the U.S. and/or other countires. © 2022 Vermeer MidSouth, Inc. All Rights Reserved.
Performing a bore operation eficiently takes consistent horizontal directional drill (HDD) planning. Vermeer productivity tools, delivered through digital technology, make it easier to access information more quickly both on machines or the project. Whether you choose a single Vermeer productivity tool, or combine them, you can make the process of bidding, planning and billing jobs more eficient. Visit vermeermidsouth.com/811 to learn more.
Thank you to the industry for 35 years.