Page 9 - Mississippi 811 Magazine 2021 Issue 4
P. 9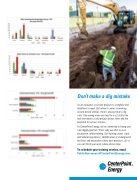 Don't make a dig mistake
As an excavator, you have projects to complete and deadlines to meet. But when it comes to working around buried utilities, there's always time to dig safe. One wrong move can lead to a cut utility line and that means costly project delays, fines and the potential for serious injuries.
At CenterPoint Energy, we're committed to being your safe digging partner. That's why we offer no-cost excavation safety training. Our training covers state and federal regulations, identification of underground facilities and excavation safety best practices, all so you can finish your work safely and on time.
To schedule your training session, email PublicAwareness@CenterPointEnergy.com.