Page 24 - Mississippi 811 Magazine 2020 Issue 4
P. 24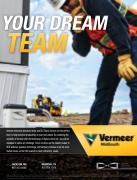 Vermeer horizontal directional drills and DCI Falcon locators are the perfect team to help maximize productivity on your next jobsite. By combining the reliability of Vermeer with the technology of Digital Control Inc., you will be equipped to tackle any challenge. Falcon locators are the industry leader in HDD walkover guidance technology, and Vermeer continues to be the most trusted choice on the HDD market to meet contractors' needs.
JACKSON, MS
601.923.8888
22 • Mississippi 811 2020, Issue 4
MEMPHIS, TN
901.758.1928
Equipment shown is for illustrative purposes only and may display optional or global-region speciic features, accessories or components. Please contact your local Vermeer dealer for more information on machine speciications. Vermeer Corporation reserves the right to make changes in product engineering, design and speciications; add improvements; or discontinue manufacturing or distribution at any time without notice or obligation. Vermeer and the Vermeer logo are trademarks of Vermeer
Manufacturing Company in the U.S. and/or other countires. © 2020 Vermeer MidSouth, Inc. All Rights Reserved.