Page 7 - Mississippi 811 Magazine 2021 Issue 3
P. 7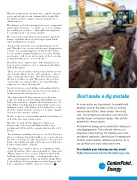 When he returns home, he writes up a complete narrative report, uploads photos and confirms all the details. His investigation is then complete and gets forwarded to a claims manager.
The ultimate goal of the investigation is not to assign fault and penalize excavators — or in the case of a car crashing into a utility pole, a driver — although his investigations do sometimes lead to monetary penalties.
The real goal is to find what went wrong that caused the damage, and make sure it doesn't happen again. Public safety is always front of mind.
"I look at who was in the area, and what happened," he said. "Was the locate accurate and they were digging in the tolerance zone and just happened to hit the line? I have
to sort out who's at fault. Usually, it's one person. Usually an excavator, or the locate isn't accurate, or the locate was accurate but they got too close to the line."
He said the most common cause of the damages he sees is an excavator getting too close to underground facilities without knowing it.
"There are a lot of facilities underground, and they're very close together. Water, electric, cable, telephone — there's only a certain amount of space they (the excavators) are allowed to work in," he said. "The guys do the best they can, but there are obstacles like roots or hard dirt that requires you to divert off your path."
One key to his success is building relationships with the folks he works with, and not being seen as an outsider or an adversary in the investigative process.
"Once I'm in the field, I'm gonna run across the same people. I've built great relationships with USIC locators as well as the excavation companies the work in the area," he said. "When something happens, I'm usually on the scene within two hours of the damage. A lot of times I get a call about the damage from the excavator or locating company even before the customer calls me."
He also credits a good relationship with the 811 facilities in each of the three states in his region.
His advice to anybody who happens to damage an underground or above ground utility facility is stop working and call 811 and the company that was affected, if known.
"If you damage something, don't try to conceal it. If you see where you damaged it, mark it with a cone or pole and rag, but don't cover it up," he said. "It's gonna be a lot easier for them to fix it with a few splices if it's uncovered. Just leave it exposed and call the company."
"One thing I see to make it safer is to communicate with everybody and have their contact information," Jamie said. "When a guy goes out to excavate, I know it's hard work. And I know they're potholing — identifying where that cable is and making sure it lines up with the marks. They do an excellent job, but sometimes accidents happen. And if we communicate it will be easier for everyone."
Don't make a dig mistake
As an excavator, you have projects to complete and deadlines to meet. But when it comes to working around buried utilities, there's always time to dig safe. One wrong move can lead to a cut utility line and that means costly project delays, fines and the potential for serious injuries.
At CenterPoint Energy, we're committed to being your safe digging partner. That's why we offer no-cost excavation safety training. Our training covers state and federal regulations, identification of underground facilities and excavation safety best practices, all so you can finish your work safely and on time.
To schedule your training session, email PublicAwareness@CenterPointEnergy.com.